Did you know in this state, Texas, if you trade in a car or truck the dealership does not have to change your title over before they send your car or truck trade in down the road. Unlike the public we must make sure the title is changed in name with the new owner at the time of sale, not so with dealerships. A catch so leaving you responsible for your trade in long after you have traded it off and it is out of your control.
Almost a year ago I went to work for my boss to hand me a newspaper ad for Hillcrest Ford in Huntsville Texas. All you needed was a job, and everyone was prequilified. So I called them with urging from my boss, and said, " I need a used vehicle but do not want to come down until I know I am preapproved, and you, (the dealer) can pick out what they can to put me in if I am. I want no song and dance, I was recently divorced at the time, knew my credit wasn't shinny, but have a reliable job, have a cash down payment, and a old car to trade in if they want it, just call me back if I get approved and if there is something they can put me in". Simple, I thought so. Took Hillcrest about half a day or less, and it was "You have been approved, and we have a blue used Escape, we can put you in, come down and see it you like it and it's your's". Well that was wonderful, being I had to pick up my 90 year old grandmother to care for, and it was suppose to be good on gas, it would be perfect. Drove down, test drove it, took it by my son to look at, he agreed it looked like a nice little truck, so I said yes. They hustled me into the credit man, he said great deal your approved sign here, I said wait, I'll be back tomorrow to finalize the deal, so I got up and walked out but stood at the door looking for my keys to leave. I hear him calling on the phone the sales man saying " get over here she's leaving without signing the papers". I proceed to find my keys head for my old car, when the sales man came hurrying up to me, What's wrong they said you were mad"? I am not mad, I just said I'll be back to sign tomorrow", oh he smiles, your sure? Yes I said, "I'll call you from work tomorrow, I also told him not to let them run him around like that, when all I was doing was leaving to be sure this was the car I wanted, to think, and pray about it over night." The next day after a internet research of the Escape, and thought, I call Hillcrest, and say yes I want the Escape, but due to being so busy on my job can they deliver it? Why yes we can, they say, and in about 30 min. time I proudly see the Escape pulling up my bosses lovely drive. The sales man brought the papers so in front of my boss and husband I signed the sales papers, salesman left I owned a Escape. I was to bring my car to them as trade in on Monday morning, which I did.
60 days go by, I have not received a payment book from Hillcrest which I call them and they say don't worry it should get there soon, I hope, for the payment is coming up I say, no problem they say, when it is due if you still don't have a payment book just come on down and we will take your payment in house. Well I was very concerned at this point. The payment day came, I had called four times before it was due for a payment book, aways being told it was on the way, so I went down for no payment book arrived, check in hand to make a payment. I call to see who I meet with, Why they say, you haven't been approved! Bring us down all your information and we'll see if we can get you in that car. Well I have been in it, put there by you for over 60 days now I say. So I take off work with my 90 year old grandmother for no one to look over her at the time, she goes with me. After sitting for 3 hours, they come up with I needed a co-signer, I said no, I was approved in the first place, let them pick out the car to put me in if they could not do it now just return my down payment and I would go down the street to another dealer who already said they could and would. Takes them a bit longer, well in all this time we don't have your trade in will you take the cash value for it. Yes that is fine I say, which they did, down payment returned plus the cash value for my car they kept as trade in. I go down the road, and am put in the most lovely truck from a wonderful dealer!
ALL is done and over I think, get into the mode of car notes, almost a year goes by, then I get a cert. letter from a Northside Storage Lot, 36 Tidwell, Houston, Texas, 77022 (713)697-8655 were the car was allowed to be left by a Houston Wrecker from a hit and ran in a accedent on 5/27/2007 in Houston, Texas,, and The Houston Police, long after I gave it over to Hillcrest Ford. My car, the one I trade in to Hillcrest Ford in Huntsville Texas, (the place they call the "No Bull Headquarters,, lol}, is now wanted for a hit and run accident in Houston Texas after I traded in to Hillcrest Ford. How is that possible????? Because your dealership does not have to have the title transferred when your vehicle with them changes hands as we the public does. So I am sure you will agree with me this is a bad practice as well law, and it is just to aid them in making a few more $ off of our trade in. This is still on going, after sending cert. letters with copies of my papers, to both the Houston Police, and Northside Storage Lot in Houston Texas, as well calling them both many times, and who ever used my trade in car to hit someone and then ran, has gotten away. I feel so bad for the people who got hit by the hit and run driver for all this time has been spent looking at me, and not going after who caused the accident in the first place. Which I think the dealership should be held responsible for they never had the title transferred before they, Hillcrest Ford let the car go to who-ever, and they should have the records of such. Tomorrow night I will down load for this site my receipts of trade, names and addresses, for all to view. Please be aware of this BAD law, and please pass this far and wide so we all know a bit more of what happens when we trade in a car!
This could as easily happen to you!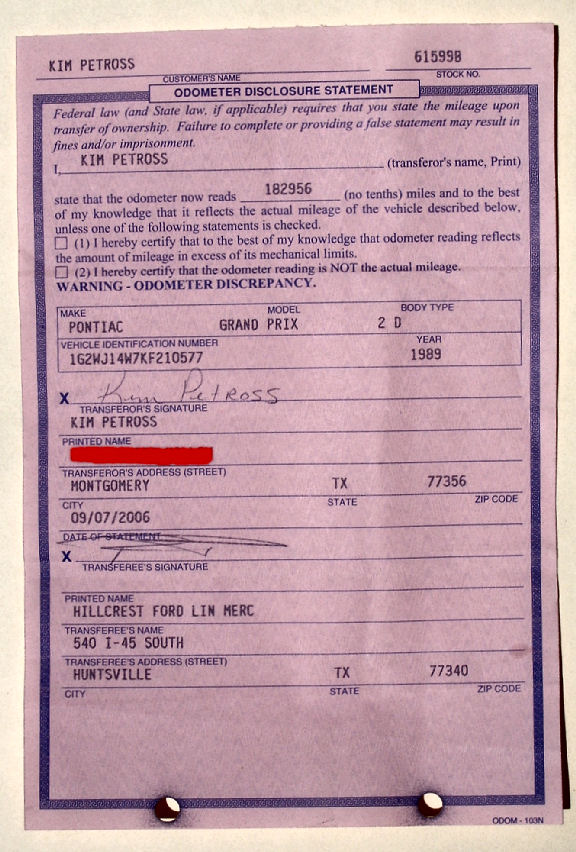 Protect yourself, know the law!