Welcome to my wee art gallery on the web! I hope you enjoy the display of some of my work examples over the years. Some are awarded, and most are available in prints, as well as on gift items. Follow the buttons to links below to browes the shops with my work, including but not limited to, Rat Terriers, Boxers, Pembroke Welsh Corgi, Miniature Pinschers, to horses, or landscapes. Products change, or are added often, special orders are always welcome, so please book mark us, and check back often!
Remember, anything you see, can imagine, or have photo of, can be made special order for as many or as little as you need, with your art subject!
I am of Cherokee/Welsh background, I am told shows through in my work. I am most proud of both, so this to me is a humble honor. My art is a most blessed gift from God, our Great Spirit. I believe in heart as I note on the back of my work, "Thank me not for my art but thank God for my gift". For without the Great Spirit, I would be no artist. I should also add very special Thanks to my dear cousin Melody for spending time with me, loving me, and teaching me to draw as a child, as well being there for me through thick and thin on into my adult life. I owe her more then I can ever repay.
Special Thanks to each of the wonderful artist, and mentors who have shared their gifts with me. I wish you all the greatest of blessings in life's path.
I most often work in painted mixed-media, creating individual works of art. I as well offer work in coloured pencil, watercolour pencil, pen & ink, pencil or charcoal sketches as well. This type of work is less then the listed painted media pricing, as painted media takes longer to create/produce, and is too more costly to produce. All pieces are special UV sealed for long life & many years of protection for lovely display. I can work from one or several pictures until we arrive with a work of art you are pleased with. Each work of art takes on it's own life for me, and each becomes very personal. I come to know, love, understand your love of the subject(s), as each one comes to have special memories in my heart, and I am honored to render a tiny resemblance of our creator's grand work for you.
To each who have allowed me that honor, Thank you!
ALL work is always 100% guaranteed,
&
I have been an est. artist since 1989.
Blessings, and Thank You for your visit!
Kimberley
*Click* Here to visit my zazzle shop for more of my art on your great gift ideas!

* Art Subject Contest *
Do you have an outstanding picture, or pictures of a beloved pet, animal, cow/cattel, floral(s), landscape, seascape, old barn(s), lighthouse(s), western, Native American, or southwest subject(s)? Enter the Art Subject contest, and you could win a FREE numbered, and signed print of the finished piece of your winning entry by the artist! ALL entry photo(s) are returned unharmed with your new print. Include your name, address, email address, subject's name/title in your entry. You must own the entry photo(s), or have a photo release from the copyright photographer.
Send it by way of the email address below, (as a clear jpg. attachment), with the subject line, "Art Subject Contest". You will be contacted by email if your photo(s) are chosen at the end of each monthly art subject review!


EChecks & Credit Card Payments Accepted Through Paypal!
Professional national awarded artist. Specializing but not limited to animal portraiture. I also paint Native American art, southwestern art, wildlife, children, water scapes, and land scapes in all mediums. Satisfaction always guaranteed!
Commission Deposit is 50% of painting total, less shipping & handling. Balance paid in full upon completion, and approval before shipping.
Mixed media Paintings,
first subject, matted 16 x 20,,,,,,,,,,,,,,,,,,,,,,, $130.00
Each additional subject,,,,,,,,,,,,,,,,,,,,,,,,,,,,, $15.00
Coloured pencil/Pen & Ink media painting,, $100.00
Each additional subject,,,,,,,,,,,,,, $10.00
Charcoal/pencil sketch, matted 16 x 20,,,, $50.00
Each additional subject,,,,,,,,,,,,,,,,,,,,,,,,,,,,,,, $10.00
Oil Paintings by special order ONLY, special pricing applies, &
when they can be scheduled, please contact the artist.
Shipping/Insurance/Packaging,,
based on actual weight insurance, & postage charges at completion, normaly under $12.00 with insurance.
Allow 6-14 weeks for completion, shipped next day of receiving balance. Order early for holidays! NOTE: Oils do take longer for drying, and curing.
ALL work is 100% guaranteed.
The more photos you send the better, but please note on the back, or by letter, the photo you wish used in the painting. The better quality the photograph is, the more detail can be shown in your finished work of art. All photographs are returned unharmed with your painting.
If you are providing a professional photograph, the photograph must accompany a copyright release from the copyright owner.
Promoting AKC's Canine Good Citizen® (CGC) Program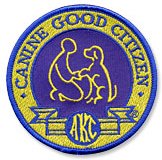 A.K.C. CGC Evaluator, contact me for training, or testing!
*Click* To Visit Art By Kimberley's Zazzle Shop & Start Shopping with Zazzle, or join Zazzle too!
Tired of your first life? Try a Second Life, *Click* here to explore more of your dreams!
Copyright © R Farm & Kennel 1989
The images on my pages are available for viewing only and may not be used for any other purpose, unless other wise stated by me. The images or pages may not be linked to, copied, printed, or posted to other web sites without the permission of Kimberley Elmore Petross.
The United States of America provides the right and the protection of "Original Works of Authorship" and certain "Intellectual Property Works." As the Owner of copyrighted works I hold the exclusive rights to duplicate, distribute, and create derivative works from my works. All the text, photographs, images, products, art work, their titles, descriptions, and designs, used on my web site as well as the finished products which I design, create, or produce, are protected under the
*** U. S. Copyright Laws (Title 17, U.S. Code). ***
I WILL seek, accordingly, to protect my, or other's works and rights against unauthorized use and infringement. Please note, a criminal investigation WILL be initiated in cases of willful infringement for profit or any and all other unauthorized use of my work.
Please note; I cannot recommend or approve of the ads Tripod adds to the top or bottom of each web page. Please be certain you research all products, services, and in what to look for in a ethical breeder, or services when searching for your forever future pet, or better yet, consider adoption from a well established pet adoption agency with great references!

For Miniature Pinscher adoption, a wonderful place to start is, IMPS, http://www.minpinrescue.org/