In Memories of Bobbie Jo Stinnett
Lovely Bobbie's tragic story,
U.K.C. & A.K.C./F.S.S.
Rat Terriers
R dogs live in the home, sharing their furniture, cushions, and beds with us. They are loving family members, as well as wonderful breed assets. All R Farm dogs are chosen from only the finest bloodlines which displays the best conformation, disposition, athletic ability, sound bone/body/mind, with a natural high hunting drive, and yet loyal loving family bonding capability. Screening does not stop there. They are further screened for health issues, heart problems, genetic issues, canine hip dysplasia and luxating patellas before ever being considered for show, and breeding. We show/train in conformation, obedience, agility, and field events, with A.K.C., & U.K.C., as well as just having great fun with our canine/animal family pack members. We screen any future homes as thoroughly as our dogs, taking our breed love, breeder responsibility, and breed ethics to great heart, thus with results we can always be proud of.

At retirement R animals live out thier life here as the loving devoted pets they always are.

We are as devoted to them, as they to us for life.

If your considering a pet, always consider checking with rescues first. There you can find wonderful furbie family members needing your love, attention, and home.

For Rat Terriers, please check with, Rat Bone Rescue,
We are most honored, and proud to announce,,,,,

We will once again be involved in bettering our breeds to be the best they can be over-all, as our dogs participate once again in ground breaking genetic study and testing. In this study our dogs will work with Sheila M. Schmutz, Ph.D., Professor, and staff, in her current studies, findings, and testing on the canine blue coat color,,, some of her hard devoted work can be found at,,,

UKC 'PR' GrCh KnD's Blue Cyclone at Lone Oak
Another fine example of Lone Oak's Excellence of Quality!

UKC 'PR' GrCh KnD's Blue Cyclone at Lone Oak

AKC Foundation Stock # RN09121002

OFA # RAT-CA64/12M/P-PI

OFA # RAT-PA259/12M/P-PI

BAER # RAT-BR7/24M-PI

UKC Multiple Best-In-Show Winner
NKC Multiple Best-In-Show Winner

NKC National Open Champion - 2007
NKC National Invitational Champion - 2007




Now getting ready for work in AKC Obedience venues.

Special Thanks to our dear friends at

Lone Oak Kennel

for promoting this extra fine boy!

We know this wonderful boy will continue to make you proud!
UKC CH Lone Oak's Sassafras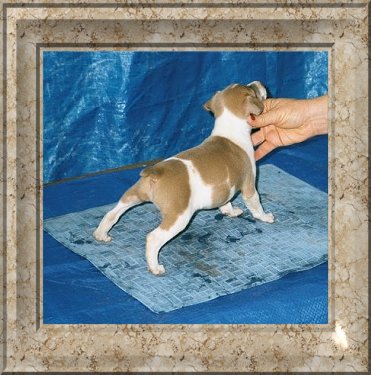 Sassy's picture as a 2001 babe, what a cute one!
Sassy Has Arrived At R Farm & In R Heart! I am so very proud to announce a member of the R Farm family,

UKC CH Lone Oak's Sassafras!

Bred/Trained/Handled/Shown by;

John & Kathleen Chance

of

Lone Oak's Kennel

We can't thank you enough for this dear girl, and look foreword to so many grand adventures with this precious lady.

*UpDate* Sassy is now retired, as she so very much requested. She is living the life of a treasured beloved pet, and past show queen. Her remaining years of life will be filled with fun, play, and leasure on the farm, or on outtings of her choice with us.

This I have assured her.
CH Lone Oak's Sassafras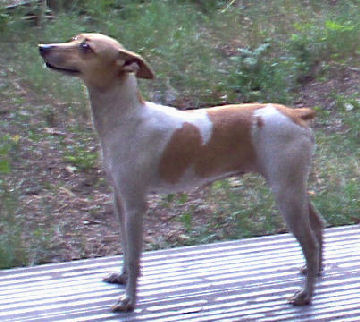 Sassy, Sept., 2005
At R home now, is a new show potential lad adding to
R Rattie world as well R show & therapy kids.
Special Thank You!!
to:
Jason Dawson, & Family,
Rat Time Kennels,
for this lovely blue fawn/white tux boy!
*Blu*
His disposition is so loving, we know he will heal many souls, and hearts in his lifetime with us. We are enjoying watching him mature as he grows into the lovely Rattie he is bred to be, as well grows into his own blessed talents in field trial, show, and therapy.
RTK'z TruBlu Golden Miracle

UKC/AKC/FSS, pending

Blue Fawn/White/Tux

is by;

Maxwell's He Who Hears

UKC

Miniature, White/Blue/Tan/Piebald/Ear: Standing

&

RTK'z Flash'n My Faith Of RRz

UKC

Miniature, Cream/White/Tux/Ear: Standing
*Blu* Here at last, Here at last!
Life is good with a favorite bone, and a great new ball!
Growing into quit the man,
he is just the most wonderful boy and he seem's to know it!
*Click* the button below to visit Lone Oak's Nastassia on her own page!
Promoting AKC's Canine Good Citizen® (CGC) Program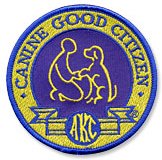 A.K.C. CGC Evaluator, contact me for training, or testing!
*Click* To Visit Art By Kimberley's Zazzle Shop & Start Shopping with Zazzle, or join Zazzle too!
Tired of your first life? Try a Second Life, *Click* here to explore more of your dreams!
Copyright © R Farm & Kennel 1989
The images on my pages are available for viewing only and may not be used for any other purpose, unless other wise stated by me. The images or pages may not be linked to, copied, printed, or posted to other web sites without the permission of Kimberley Elmore Petross.
The United States of America provides the right and the protection of "Original Works of Authorship" and certain "Intellectual Property Works." As the Owner of copyrighted works I hold the exclusive rights to duplicate, distribute, and create derivative works from my works. All the text, photographs, images, products, art work, their titles, descriptions, and designs, used on my web site as well as the finished products which I design, create, or produce, are protected under the
*** U. S. Copyright Laws (Title 17, U.S. Code). ***
I WILL seek, accordingly, to protect my, or other's works and rights against unauthorized use and infringement. Please note, a criminal investigation WILL be initiated in cases of willful infringement for profit or any and all other unauthorized use of my work.
Please note; I cannot recommend or approve of the ads Tripod adds to the top or bottom of each web page. Please be certain you research all products, services, and in what to look for in a ethical breeder, or services when searching for your forever future pet, or better yet, consider adoption from a well established pet adoption agency with great references!

For Miniature Pinscher adoption, a wonderful place to start is, IMPS, http://www.minpinrescue.org/