R Chocoholic Dream, aka, Choco came to be from many many years of researching genetics, bloodlines, pedigrees, and locating a breeder who showed some of the most lovely Chocolate Miniature Pinschers I had seen. Chrisy Lopez, of Surebet's Miniature Pinschers in Arizona. This was still in a time, of no email, ( can you imagine that!), just good ole snail mail, and good ole land phone lines. While working with Chrisy on purchasing from her show lines, a chocolate male show prospect, she unfortunately went through a divorce, very quickly liquidating her dogs. We, to my greatest dismay lost touch. A bit of time went by before I could relocate the blood-line again, in a dog breed mag.. Advertised in the back, I found some in the hands of a Arizona breeder, so I contacted the breeder as to what they had of Chrisy's lines. They had a male, Surebet's Touch-Down-Brown, a son, out of the line as well of the pointed male Chrisy was going to send here to Texas to show on, and found our chocolate show line. The dogs of Chrisy's were no longer being shown or proven by the current breeder, but the hard devoted proven work of Chrisy's quality Surebet lines still shined through in the dogs. Personally I can't thank Chrisy enough of the path she blazed, those too before her, as those all around us now with such out standing chocolate, and all colors of Miniature Pinschers today like her!
I was contacted by the breeder when they had a show potential male, which they sent me two photos of him, and a pedigree. By pedigree the pup was doubled up on the lines/genes I was looking for from Chrisy, out of a pointed male I had once just almost had of the same lines. So, I agreed, one sweet show choc boy from the lines I had long awaited for so many years. I was to very excited! The day came, and he flew into Texas, lovely wee chocolate lad pretty much perfect in every-way except for a few white hairs on his chest. So, I contact the breeder, and began my research on where in the Miniature Pinscher white could have come from in the breed. The breeder stood on ground, that the boy was conformation show ring quality, and I could just pull the hairs out for the conformation ring when shown. I decided not to, I have never done so with any of our show lines, so I would not now, nor ever. I will not put make-up on our show dogs to cover faults up,, nor if white is there when not being judged to have white, removing such by shaving it off or pulling it out. But rather breed for it not to be there, and breed on for clear chocolates of show, ( or any color ), with no white. After much breed history research I found the chocolate lines had once all but disappeared many years ago. When a couple of long time breeders in the USA decided to try to bring the chocolates back. The line they imported which carried chocolate, also later they found, carried the Harlequin gene. Bingo,, this is where the white in our breed is/was coming from. So with very careful breeding of genes, the white could be reduced, and eventually removed, to the state we see often today to just a few white chest hairs, or less then a 1/4 inch in our breed in all our colors.
I have never regretted meeting the Miniature Pinscher, Chrisy Lopez, or this beautiful line she, and those of us as her have worked so hard to promote, as well prove, and protect.

Well, that's his wee Min Pin story though many years of living went into it, as well as thought, regardless of any great, or small rumor you may have heard of how, or who this dear sweet man came to be. Who we'll always adore, and be most forever thankful for.
Thank you again Chrisy Lopez, the breed as a whole, and all the dedicated Miniature Pinscher breeders as her!

Promoting AKC's Canine Good Citizen® (CGC) Program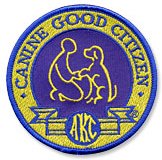 A.K.C. CGC Evaluator, contact me for training, or testing!
*Click* To Visit Art By Kimberley's Zazzle Shop & Start Shopping with Zazzle, or join Zazzle too!
Tired of your first life? Try a Second Life, *Click* here to explore more of your dreams!
Copyright © R Farm & Kennel 1989
The images on my pages are available for viewing only and may not be used for any other purpose, unless other wise stated by me. The images or pages may not be linked to, copied, printed, or posted to other web sites without the permission of Kimberley Elmore Petross.
The United States of America provides the right and the protection of "Original Works of Authorship" and certain "Intellectual Property Works." As the Owner of copyrighted works I hold the exclusive rights to duplicate, distribute, and create derivative works from my works. All the text, photographs, images, products, art work, their titles, descriptions, and designs, used on my web site as well as the finished products which I design, create, or produce, are protected under the
*** U. S. Copyright Laws (Title 17, U.S. Code). ***
I WILL seek, accordingly, to protect my, or other's works and rights against unauthorized use and infringement. Please note, a criminal investigation WILL be initiated in cases of willful infringement for profit or any and all other unauthorized use of my work.
Please note; I cannot recommend or approve of the ads Tripod adds to the top or bottom of each web page. Please be certain you research all products, services, and in what to look for in a ethical breeder, or services when searching for your forever future pet, or better yet, consider adoption from a well established pet adoption agency with great references!

For Miniature Pinscher adoption, a wonderful place to start is, IMPS, http://www.minpinrescue.org/